Join us this summer in Boston to learn how to use journalistic writing techniques in your Advanced Placement English Language and Composition and journalism classes. You will learn from Boston Globe writers and successful IJW educators, visit historic and literary places and create new lesson plans for your students.
Over the river and through the woods.
Since 1988, the Intensive Journalistic Writing Institute (IJWI) has trained hundreds of English and journalism teachers around the country in new approaches to teaching writing, using real examples of contemporary and classic journalistic models.
The title is an accurate reflection of what to expect. Our schedule will be intensive and the sessions extensive. You will read journalistic models and explore journalistic writing modes. You will learn teaching techniques and write new unit plans that include journalistic writing in your English curriculum.
Upon completion of the course, you will be able to offer AP English Language & Composition at the junior or senior level. (This Institute will not prepare you for a newspaper production class.) High schools give English, composition, fine arts or technical writing credit for courses using the IJWI approach.
During the seven days of IJWI, teachers will learn to:
use journalistic forms as foundations for effective writing
integrate journalistic and rhetorical modes in their classrooms
develop a body of knowledge about teaching writing
incorporate First Amendment study and principles
use new approaches for preparing students to sit for the AP English Language & Composition Examination, including the synthesis portion
write, research and report like a 21st century journalist
identify specific techniques for individualized instruction
include historic American journalistic and literary works into your course
have the framework to write a curriculum guide
The lead teachers are Carol Lange and Ron Bennett, both members of the first Intensive Journalistic Writing Institute that created the IJW approach and foundation curriculum. From 1990-2005, they teamed to lead IJW institutes.
Carol has been teaching with the Institute since it began under the auspices of the Dow Jones News Fund (DJNF) in 1988. Lange was the 1991 DJNF National High School Journalism Teacher of the Year and the JEA Carl Towley recipient.
Ron introduced the IJW approach at two high schools before moving to BYU-Idaho where he has been the Communication Department chair and instructor of Communications Writing and Advanced Media Writing.
Other educators who have successfully incorporated journalism in the English classroom will share lesson plans. These include Brian Baron, Newton South HS; Colleen Gacic, Scituate HS; and Will Higgins, Dartmouth H.S. Guest lecturers from The Boston Globe will provide additional perspectives on journalistic writing.
Institute location and costs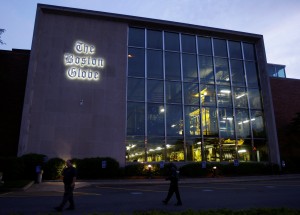 IJWI will be held at The Boston Globe headquarters. Located near UMass Boston and the John F. Kennedy Presidential Library and Museum, The Globe provides a comfortable meeting place with all the amenities we need.
Founded in 1872, The Globe is well respected for its investigative work, local reporting and involvement in the community. Art critic Sebastian Smee is the most recent of 21 Globe staffers to receive the Pulitzer Prize.  Ellen Goodman, who has appeared on the AP exam, was the 1980 recipient for Distinguished Commentary.
Off-site seminars will highlight historic and literary Boston.
The 2012 IJWI begins at 5 p.m. on Sunday, June 24. The last session will end at 5 p.m. on Saturday, June 30.
The fee for the seven-day Institute is $400 per person. Institute participants will receive the IJW Notebook, an IJWI feature full of handouts and resources for classroom use.
Boston
Boston will be an active participant in the Institute — giving historic perspective, inviting all to explore its many dimensions and offering an enriching environment for learning. The first regularly issued American newspaper, the Boston News-Letter, was published in 1704. Environmental journalists, the Boston Common was the first public park. Political reporters, the first State constitution was written here in 1780. Food critics, visit the Union Oyster House, open since 1714, and check out the first cookbook in America, Fannie Farmer's The Boston Cooking-School Cook Book." Technology, education and sports reporters, you have your firsts to explore in Boston as well.
The Freedom Trail, museums, art galleries and nearby environs will be woven into the IJWI experience.
Boston is an easily accessed city with Logan International Airport, Amtrak and three main routes — I-90 from the west, I-95 and I-93 from the north and south. You'll get to know the T and pedestrian routes and trails.
Lodging
Participants may find their own lodging or commute from home. We have arranged for rooms at The College Club of Boston at a discount. Located near Boston Common and an easy walk to the Charles River, Beacon Hill, and Newbury Street with its unique stores and restaurants, The College Club of Boston provides an ideal location.

Three floors of guest rooms are accessible by elevator: two double rooms per floor have en suite baths and two single rooms share one bath. Antiques, reproductions and interior colors evoke the charm of graceful Boston. Each room has been designed to reflect a local university and provide a comfortable stay. Individual air-conditioning units, hair dryers and clock radio/alarm clocks will keep you on time.
The rates include complimentary continental buffet breakfast, wireless and dial-up Internet access, and daily maid service. In the evenings, gather in the dining room to watch television as you eat homemade cookies and sip coffee, tea or cocoa. For more views of The College Club of Boston visit www.thecollegeclubofboston.com. Single room/shared bath is $125.15 per night. Single or double room/private bath is $251.33 per night.
Call before May 24, 2012, to reserve your room at the discounted rate: (617) 536-9510. Be sure to say you are an IJWI attendee.
Participants may wish to stay after the Institute to attend the fabulous Fourth of July festivities and explore the area. The College Club of Boston will give participants a discount if they wish to extend their stay.
Institute Fee
The IJWI fee is $400. The registration deadline to take the institute is May 16.
This registration form for the Institute must be accompanied with a deposit of $200 made payable to Intensive Journalistic Writing Institute. Final payment must be made by June 16. If cancellation takes place five or fewer days before June 24, IJWI does not allow a refund.
IJWI begins at 5:50 p.m. on Sunday, June 24, and ends on Saturday, June 30, at 5:00 p.m. For more information about opening and closing days contact Carol Lange at LangeJour@aol.com.
Course credit
IJWI has been offered in the past for two or three academic credits. If sufficient registered participants indicate interest, we will seek academic credit.